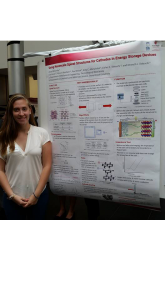 When choosing her undergraduate major, senior Alison McCarthy considered her best subjects: math, physics and art. Why not try engineering? suggested her mother. Now, as a senior ready to graduate this May, McCarthy is happy she chose Mechanical Engineering as her major at the College.
"I picked Mechanical because it's the most general and you can do the most with it," said McCarthy. "It's the basis for a lot of other engineering." Even though her coursework can be difficult at times, McCarthy says she enjoys the challenge: especially the physics and mechanism elements of engineering.
"Physics comes easy to me – it makes sense," said McCarthy.
Enjoying new tasks, McCarthy and her team of five have taken on the arduous senior project of Aero Design – designing an airplane that must drop sand bags from one hundred feet in the air. McCarthy and her team will enter their airplane in the SAE Aero Design East competition this April in Florida.
"We started in June doing research as well as all over the summer," said McCarthy. "We've been working on it the whole year."
Although McCarthy says this type of aero design interests her, she will pursue a PhD in Materials Science and Engineering this fall, focusing on the interconnectedness between mechanics and chemistry.
"I'll be studying down on a molecular level," McCarthy explained. "Like when testing the stress of a beam you see why certain things happen. You manipulate the material to make things stronger."
McCarthy is still deciding whether her graduate studies will take her either to Drexel University in Philadelphia or Stony Brook University, where she completed a Research for Undergraduates (RU) summer program centering on in-depth materials studies. During the summer between her sophomore and junior year, McCarthy also expanded her materials knowledge when assisting Dr. Yan of the Mechanical Engineering department in a summer MUSE program.
When she's not conducting micro fluidic research or constructing the tail of an airplane, McCarthy is President of the club She's the First: a non-profit organization raising money to send girls in low-income countries to school. The club not only fundraises, but also spreads awareness of the obstacles girls encounter when trying to earn an education.
"My parents always told me that when you go to school… it gives you independence to make the decisions you want and do what you want," told McCarthy. "I found it insane that people don't have that opportunity."
In addition to spreading awareness about the inequality of girl's receiving an education, McCarthy serves as Treasurer for the Society of Women Engineers. The club has revitalized in the last two years, with McCarthy's help, after the club was inactive for McCarthy's freshman and sophomore year. An important function of the Society of Women Engineers is its community outreach.
"We go to elementary schools, girls scout troops and teach little girls about engineering," said McCarthy. "We do different activities with them and they don't even realize it's engineering – it's all problem solving."
Engaging women in engineering is important to McCarthy because it brings a new voice and new perspective to the drawing table.
"Everybody has different perspectives from past experiences and the way they think about a problem," said McCarthy. With the inclusion of all voices, thoughts and opinions, "One person may think of a way that nobody has ever thought of before. If you only have the same types of people, with the same types of backgrounds, then there will be nothing new."