American Society of Mechanical Engineers (ASME) students left the hallways of Armstrong Hall for the vast, roaming fields of Pittstown Grow-a-Row Farm farm, in Pittstown New Jersey.
ASME teamed up with charitable non-profit organization Grow-A-Row, whose aim is to cultivate and distribute crops for the food-impoverished in New Jersey. With determined efforts, students of ASME harvested the number of tomatoes usually harvested in three hours in just half the time. In total, 8,400 pounds of tomatoes were harvested in ASME's session alone.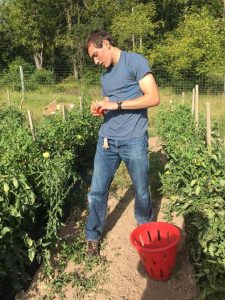 "Grow-a-Row provides such a different volunteering experience than any other organization," commented ASME Vice President junior Mechanical Engineering major Kelly Sibree. "Harvesting tomatoes was fun, therapeutic, and rewarding. It was so great to know that this work would help so many people that are in need of fresh produce."
Due to remarkable results from their hard work, ASME's harvested thousands of pounds of tomatoes in record time. Students helped Grow-a-Row harvest crops that were distributed to various grocery stores and farmers markets in 'food deserts,' areas where produce offerings are scarce. The club had such a good experience with Grow-a-Row that the club plans to return and volunteer at the farm at least once a month, said Sibree.
Family events, as well as informative public presentations, are also provided by Grow a Row. Since Grow a Row's inception in 2002, the organization has harvested more than 5.6 million pounds of produce. This includes the approximate 1.2 million pounds of produce that was donated last year.